FullOnDrums.com is the one stop source for information for anyone interested in recording drums. Tips, tricks and techniques are presented via video, audio and text to allow the recording drummer and engineer to advance in all aspects of his or her craft. Each episode offers tips, tricks and techniques as well as insights from a wide range of professional engineers and drummers and will be accompanied by full-bandwidth, multi-track audio downloads. Episodes are accompanied by additional videos, articles, interviews, news and reviews from around the drumosphere. Any style from beginners to pros, you'll find it here at FullOnDrums.com!
Charlie Waymire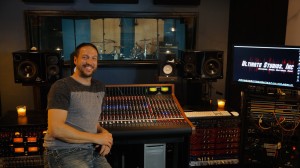 Charlie Waymire studied music at the McNally Smith College of Music in St. Paul, MN before moving to Los Angeles to attend Musicians Institute receiving "Rock Drummer of the Year" honors and where he currently teaches Studio Drums classes. He was signed to Universal Records with the hard rock act Speak No Evil and toured extensively throughout the United States as well as multiple European tours with Marmaduke Recording artist Jeff Kollman.
Charlie stays busy at his studio, Ultimate Studios, Inc., where he records, produces and mixes for artists all over the world. Charlie has worked with some of the top drummers in the industry including Ray Luzier (Korn), Glen Sobel (Alice Cooper), Jeff Bowders (Paul Gilbert/Puddle of Mudd), Henry McDaniel IV (Stanley Clark), Josh Freese (A Perfect Circle), Mike Avenaim (Emblem3/Scott Weiland), J.R. Robinson (Michael Jackson), Dean Butterworth (Good Charlotte), and Land Richards (George Benson) to name a few.
Charlie has recorded tracks for television shows such as "Malcolm in the Middle" (FOX), "Help You Help Me" (ABC), "The Drinky Crow Show" (Cartoon Network) and "Zeke and Luther" (Disney). Recent projects include original compositions for DKNY commercial (featuring Hilary Duff), Omni Piece viral campaign and drums for True North Snacks commercial series.
Charlie is a tweaker and is constantly in search of the ultimate tones which is why he has been cut off of coffee. Hey everyone has to sleep sometime!
Scott Francisco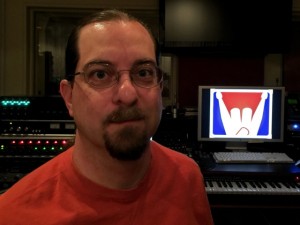 In addition to co-founding FullOnDrums.com in 2011 with Charlie Waymire, Scott works as composer, guitarist and music editor for film and television. He has worked closely with many composers including Christophe Beck, Patrice Rushen, Joseph LoDuca, and Charles Sydnor. His compositions have appeared in numerous short films, advertisements, music libraries, and network television shows including Malcolm In The Middle, Help Me Help You, and Leverage.  Scott has also had  the privilege of working on many notable films such as Academy Award nominated "A Mother's Promise" 2008, "Fame" 2009, "Brooklyn's Finest" 2009, as well as composing the original score for the short film "Hitting on Destiny" 2011.
Scott has over two decades of experience as a recording engineer. In addition to recording and mixing for film and television,  He has contributed to albums by artists such as Mick Jagger, Puddle Of Mudd, Badly Drawn Boy, Goo Goo Dolls, Blues Traveler, Dokken, Liz Phair, Ron Brown, and The Urban Jazz Network among many others. He was nominated for a Latin Grammy in 2000 for his work on Jaguares "Bajo el Azul de Tu Misterio."
Scott brings a diverse skill set and range of experience to share with the FullOnDrums.com audience as well as extensive knowledge of the video production process.
Tim Pedersen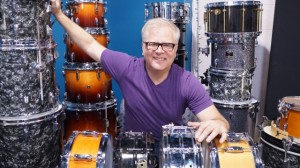 Tim Pedersen is a musician, songwriter, producer, educator and writer. He has performed with everyone from Ron Wood and Mick Taylor to Del Shannon and Little Anthony.
His instructional DVD's have sold more than 50,000 copies and he was the Director of the Drum Program at Musicians Institute for over 12 years. He has performed on, produced or engineered hundreds of recordings and currently spends his time in the studio or teaching the instruments that he loves to play.