I've known Jesper for a long time but this was my first time working with him in the studio. It was so easy. He has a great groove that has a nice flow and his touch is fantastic. Jesper is also really dialed with his gear so getting drum sounds was really easy. For this session I actually had a pre-production meeting with the artist and then Jesper and I exchanged a few phone calls about what gear he was going to bring. Since our goal was to get a vintage vibe he brought his 1962 Slingerland kit and we used an assortment of Zildjian and Paiste cymbals.
Let's dive into the details!
Kick Drum: Dynamic & Condenser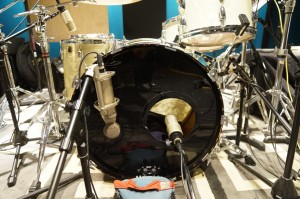 For this session I went with a Heil Sound PR40 dynamic microphone and a Studio Projects CS5. The Heil PR40 has a really unique sound to me. It's extremely full sounding but at the same time has kind of a vintage feel to it. The low-mid range is fantastic and is just made for kick drums. The Studio Projects CS5 is an extremely versatile microphone. It has separate high and low pass filters, 5, 10, 15, & 20 db pad options, as well as 5 polar pattern options; Cardioid, Wide Cardioid, Hyper Cardioid, Omni, and Figure 8. This microphone is perfect for the outside of a kick drum. It has an uncanny ability to capture the entire drum with a nice, tight, low end.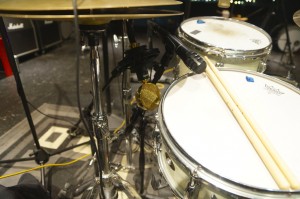 The Snare: Dynamic, Ribbon, Dynamic
Audio-Technica Pro63, Cascade Fathead II on the side, and a Joe Vezzetti modded SM57 on the bottom. I love the AT Pro63. Unlike an SM57 it has a more open top end. Not as much as a condenser has but it does a nice job of capturing snap and some air.
I've been using the Cascade Fathead II Ribbon Mic on the side of the snare quite a bit lately. It adds a some nice, full, body to the snare sound. I have it positioned towards the bottom of the snare and slightly angled up. Jesper doesn't play his hi-hats too loud so there isn't too much bleed. This also allowed me to angle the mic towards the to of the snare. This positioning changes with each drummer but this is what worked well for this session.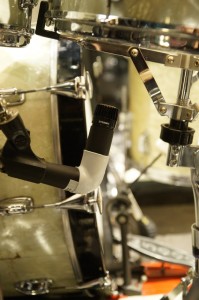 On the bottom I have an SM57 that was modded by a good friend of mine named Joe Vezzetti. He's a great technician and drummer too! The angle makes it easy to place the microphone in tight spots. Super convenient. Thanks Joe!!!
Toms: Dynamic Mics
On the toms I have my trusty Heil PR30's. These are my favorite dynamic mics for toms. They are tight and focused. They do a great job of pulling the tone out of toms and have excellent rejection on the back and side.
Overheads: Ribbon Mics
If there is one microphone I'm guilty of using too much it's the Audio-Technca AT4080 Ribbon mic. This mic works in so many different applications and styles. It fits the sound we are after perfectly. I touched them with a couple db of a 10k shelf on the Trident 88 console and we pretty much had our drum sound. These mics are amazing.
Rooms: Mono Ribbon, Stereo Condensers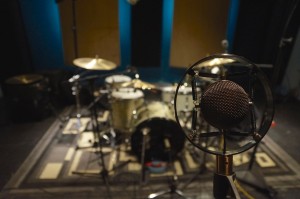 I have two different types of mics for rooms. The first is a mono Cascade Knucklehead ribbon mic. I always like having a good mono room shot of the kit. The ribbon tames the cymbals and is full sounding. The second setup is a spaced pair of Audio-Technica AT4047's set to Omni. They are placed a few inches above the floor. This placement captures more of the bottom of the kit while not letting the cymbals take over the mix. Having them set to omni also softens the cymbals and accentuates the bottom end. It's a really cool room sound.
Here's the full mic setup for the session:
All mics are going through the Trident 88 Console
1. Kick In – Heil PR40 – Trident 88 EQ
2. Kick Out – Studio Projects CS5
3. Snare Top – Audio-Technica Pro63
4. Snare Side – Cascade Fathead II
5. Snare Bottom – Joe Vezzetti modded SM57
6. Hats – Audio-Technica ATM450
7. Rack Tom – Heil PR30 – Trident 88 EQ
8. Floor Tom – Heil PR30 – Trident 88 EQ
9. Ride – Audio-Technica ATM450
10. OH LF – Audio-Technica AT4080 – Trident 88 EQ
11. OH RT – Audio-Technica AT4080 – Trident 88 EQ
12. Mono Room – Cascade Knucklehead Ribbon Mic
13. Room LF – Audio-Technica AT4047 (set to omni)
14. Room RT – Audio-Technica AT4047 (set to omni)
That's it for this installment of the FullOnDrums.com "Session Report"! I hope you enjoyed it!
Feel free to contact me with any questions.
Happy Recording!
Charlie Waymire
www.UltimateStudiosInc.com
Photos from the session: