Come hang out and talk drum recording!
Have questions about recording drums? Want to learn more about drum micing, tuning, head choices, and more?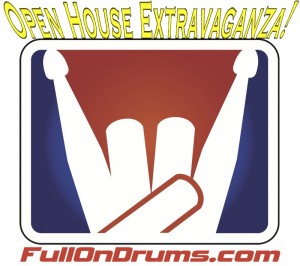 Then come to the FullOnDrums Open House Extravaganza where you can hang out with the FOD crew and get your questions answered. Charlie, Scott, and Kurt will be on hand to talk about any part of the recording process.
The day will feature demonstrations (full schedule below) on how to record drums, tuning, anatomy of a drum, and much, much more.
Lucky attendees will have chances to win one of two microphones from Audio Technica and drumheads from Evans Drumheads!
Drummer extraordinaire Glen Sobel (Alice Cooper, Six A.M., Paul Gilbert) will give tips about recording and treat us all to a killer performance. (please RSVP below)
Where: Ultimate Rhythm Studios
13829 Saticoy St.
Panorama City, CA 91402
When: Saturday December 7, 2013
What time: 1pm-6pm
If you plan on attending you must RSVP below. Thanks!
Sponsored by:
---
Open House Schedule of Events:
1pm – Come hang out and talk about everything drum recording. There will be plenty of gear setup to check out!
2pm – Minimal Micing Demonstraion featuring Audio-Technica Mics – approx. 25min
2:30pm – AT2020 Giveaway
3pm – Kurt Berger Tuning Clinic / Drumhead Giveaway featuring Evans Drumheads- approx. 30min
4pm – Kick Drum/Snare Drum micing demo – approx. 25min
5pm – Guest Clinic/Performance – approx. 40min
5:30pm – AT2020 Giveaway
6pm – Closing down the studio for the night.