Today we're in a very large live room with the Gretsch Brooklyn series
kit and the new Auralex ProMAX panel system.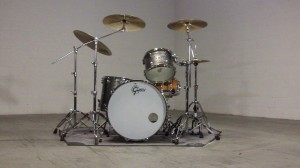 The Gretsch kit features an 18×24″ kick drum, 9×13″ rack tom, 16×16″ floor tom and a 6×14″ USA maple snare drum.
In order to best capture the interaction of room and kit, we used a minimal 6 mic setup:
An Audio Technica 4047 just outside the kick.
An SM57 on the snare.
Royer SF-12 stereo ribbon mics for both the overhead and room.
All mics went through a Millennia HV-3D straight to an Apogee Rosetta 800.
The 20 x 35 x 12 room was  a photo studio with a concrete floor and no acoustical treatment.
To better demonstrate  the effect of the ProMAX panels on the close mics, the room mics were not used in the episode mixes. They are included in the audio downloads.
We tried several panel configurations in addition to the ones used in the show. All are included in the downloads: